When I first heard that I would have to do online teaching for my 3-year-old preschool class, the first thing that came to my mind was "are you kidding me?" Preschool is about social interaction, sharing, taking turns, pretend play, exploration…not sitting in front of a screen watching your teacher.
After talking to my good friend that I used to teach with, I felt much better about things. She shared with me some of her online class ideas and tools, and it got me excited to try new things. The wheels started turning, and I've been able to create some activities that I think the kids have enjoyed. Last week was my first online circle time, and I thought it went pretty well. The kids were engaged, they had fun seeing each other, and there weren't any major technical difficulties.
This week we talked about being good helpers. I thought this was a good topic that would help parents right now. I found a book called Henry Helps Clean His Room by Beth Bracken. If you want a hard copy, you can get it on Amazon (just click on the picture), or if you want a digital copy, they have it on ReadingIQ.com. I don't know if it's just a special right now, but teachers get a free account. During our Zoom circle time, I did a screen share while I read the book from Reading IQ.
Play With Joy is a participant in the Amazon Services LLC Associates Program, an affiliate advertising program designed to provide a means for us to earn fees by linking to Amazon.com and affiliated sites
After we read the book we played a little game to encourage the kids to be good helpers. You've heard of a service scavenger hunt, where people go door to door trying to find service to do, and whoever checks off the whole list wins. Well, this is similar, but since we're all socially isolating right now, this will be one in the house.
This activity can be done many different ways. I'll list a few ways this can be adapted to younger and older kids. I'd love to hear your suggestions in the comment section!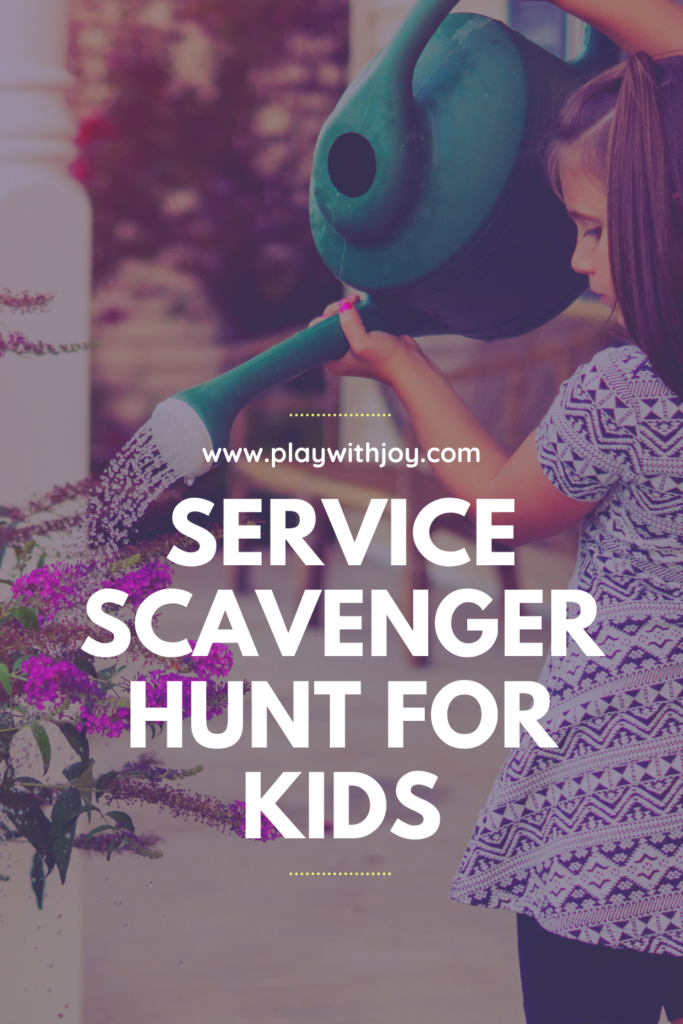 Activity: SERVICE SCAVENGER HUNT
Option 1: For the littler kids (this is what we did online)
Supplies: A messy room (if you don't have one, I know of a few kids I could send over to help with that.) You could actually do this with a clean house too, but I like the idea of finding all the items off the floor or wherever they don't belong.
Give an instruction: "Find something blue" "Find two things that look the same" "Find something bigger than this cup" "Find all the circles"
The child/children bring back what you ask for, then you ask them to be a good helper and go put them where they belong while you count to see how fast they can do it.
Additional ideas: you could add a dice or a spinner to show how many items to pick up, or a dice with colored sides to show what colors to find. You could make cards that they pick out of a hat that give the instruction. You could add actions like "Hop and find something yellow." You could have them find everything in one category and then count how many items they found before putting them away.
Option 2: For older kids
Make a list of service activities your child can do, or even better, have them make the list

Make a bed
Pick up 5 toys off the ground
Put 5 dishes in the dishwasher (you can adjust the amount to what will keep your child engaged)
Wash a window
Write a letter to a grandparent/neighbor/friend
Take the dog on a walk
Sing a song to your mom
Sweep the kitchen
Play a game with your younger sibling
Put all your toys in your room
"Read" a book to someone
Make someone laugh
Tell someone something you like about them
Call someone who might be lonely
Help make a meal
Set the table

Have them check it off as they go
If you have multiple kids, they could compete against each other, or you could make it a cooperative game where they have to do it together
You could compete against them too, to see who can check off the most
To make it more of a scavenger hunt, you could have them do a task to mark something off of a map (see download) This could be used as a chore motivator.

For the download, you can edit any of the tasks or prizes, then cover the circles with scratch off stickers. As the kids complete a task, they can scratch off a sticker. If you want them to receive specific prizes for specific tasks, then number the stickers with the corresponding numbers from the task list.